Bi-Steel
Bi-Steel - superior blast protection and blast containment
Today's society faces a range of security threats. One of them is an attack by terrorists using explosive devices. Providing terrorist bomb protection is a necessary requirement for key government, public and commercial sites, such as vital utilities, transport hubs, and crowded places, including shopping centres, sports arenas, bars or night clubs and other visitor attractions. To safeguard people, property and assets, measures must therefore be put in place to provide blast protection for key buildings and other important structures, and to ensure high levels of physical security are provided.
Bi-Steel is the ideal solution. This unique Tata Steel patented steel/concrete composite material offers superior blast protection. Bi-Steel is approved for use by the UK and US governments for blast protection buildings work and meets the performance standards of PAS 68:2010, the accepted UK classification system for vehicle security barriers
Bi-Steel panel description
Surefast connection system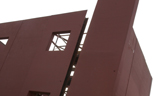 Bi-Steel provides superior blast protection for existing or new buildings. This includes complete blast protection structures and blast walls.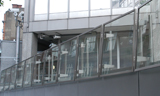 Bi-Steel perimeter security barriers offer unrivalled protection from terrorist bomb attack. The range includes vehicle barriers, bollards and walls.